Validated and Certified UV Disinfection Solutions
Proud to be supporting UK municipal water companies
Ensuring a safe & clean water supply and protecting our waterways from the wastewater we generate is the essential work of our water companies in the UK. We understand water companies are facing a range of pressing and interlinked challenges:
Climate change
Environmental protection
Population growth
Risk of drought
Water resilience
Daro and Daro Aquafides alliance see it as our responsibility to work collaboratively and deliver a water supply system that is reliable, sustainable and affordable.
Daro-Aquafides series of validated UV reactors are designed for maximum performance and operational resilience. Our systems embrace the latest and very best technology to deliver new, compact, low energy, durable and reliable UV solutions that are easy and cost-effective to maintain; and include extended lamp-life warranties.
We understand the water industry is under pressure to make best use of available & developing technologies and may need to look to additional resources such as water reuse (UV-AOP/desalination) and winter storage, as just two examples.
Understanding these drivers and including UV technology as part of this resilience mapping, is key to water companies and their Water Resource Management Planning. UV is a cost-effective option to maintaining a safe supply of water and wastewater discharge.
See our validated and certified products specifically designed for UK municipals or to get in touch call 01787 370187 or email info@darouv.co.uk
The Daro Aquafides Alliance
British UV manufacturer Daro UV, part of Daro Group, and international Austrian based Aquafides, in 2020 formed a strategic alliance to deliver certified ultraviolet disinfection solutions to the UK municipal and industrial water treatment markets.
As a result of a management buyout (MBO) Daro UV Systems was founded in 2007 and is now an integral part of Daro Group. For over 40 years the East Anglian based UV experts have been designing, manufacturing and successfully delivering UV disinfection systems nationwide. During this time, Daro UV has created a name that is synonymous with quality solutions.
Founded in 2008, the highly specialist team at Aquafides is made up exclusively of employees with decades of experience in water treatment and a comprehensive range of UV disinfection solutions. The company also manufacturers its own range of UV disinfection products that are compact, low energy, durable, reliable and easy to maintain.
The alliance's mission is to provide collaborative consultation alongside certified UV solutions to support custodians of consumer health and the environment in their delivery of safe water; without the use of chemicals and production of harmful by-products.
The alliance reflects the dovetail fit of the strategies of both companies that focuses on quality, sustainability and flexibility for customers.
Contact us to discuss your needs on 01787 370187 or email info@darouv.co.uk.

The vision is to be recognised as the most trusted, agile and responsive partner delivering water treatment solutions. The alliance facilitates access to the most compact and validated UV disinfection range from Aquafides.
Investing in our valued resources, our mission is to provide consultation and support to all custodians of consumer health and the environment in their delivery of safe water; without the use of chemicals or production of harmful by-products.
By integrating our combined skill, expertise and resources, increasing numbers of water providers will benefit from our resilient and intelligent solutions, alongside the dedication of an agile team that understands their testing and legislative environment.
Our core value is simple.  Our thinking and decisions are guided by the philosophy of you win, we win.
Mervyn joined Daro in 2016 bringing 20 years' experience in business and finance. His role is to lead the strategic direction of Daro, managing continuous investment in resources to enable people, businesses and the group to achieve their long-term objectives.
Jon has been operating in the UV water treatment arena for over 25 years. He brings with him an unprecedented wealth of experience and expertise from the industrial and municipal sectors. As head of the Daro Aquafides alliance partnership Jon's role is to provide market guidance and deliver consultation & support to custodians of consumer health in their delivery of safe water. He has the responsibility of the development of the Daro Aquafides' brand to be recognised as the most trusted, agile and responsive partner delivering UV water treatment solutions.
Julian joined Daro in 2006 and brought with him a wealth of experience and knowledge of UV treatment sector and general industry. Julian pioneered Daro UV systems and in his role as business leader he has developed the business from inception to the well-established, thriving and respected business that it is today.
Group Finance and Human Resources
Head of Compliance and Quality Assurance
Head of Group Technologies
Technical Lead and Key Accounts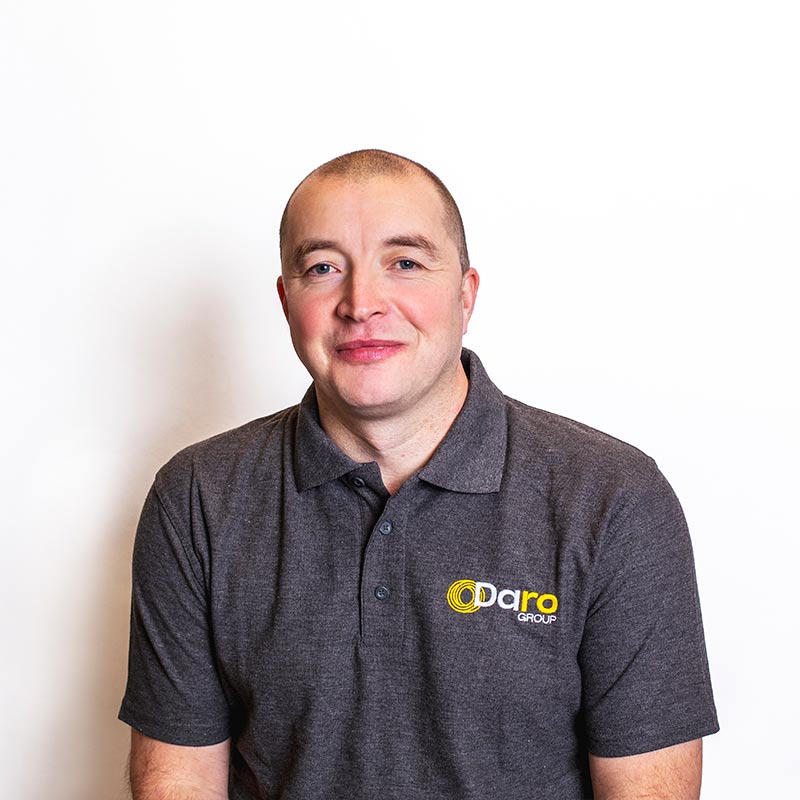 Head of Compliance and Quality Assurance
And supported by Aquafides
Wolfgang has been a supportive and integral part of the domestic and international growth of Aquafides UV. Over the years he has provided valued guidance in the success and the development of the UV Disinfection markets both on the home front and to the global arena.
Business Development Manager
A renowned and respected international UV validation expert and inspectorate. For over a decade Jurgen was the lead inspector at the accredited and internationally recognised OFI testing facilities in Austria. This offers the perfect platform for Jurgen to provide validated disinfection solutions for the most intricate design parameters and concepts.