For over 40 years we've been designing, manufacturing and successfully delivering UV systems for water and surface disinfection and hand hygiene education.
During this time, we have developed a name that is synonymous with agility and quality solutions.
Building on many decades of expertise, our vision is to be recognised as the most trusted, agile and responsive partner delivering water treatment, infection prevention and control solutions.
Being part of Daro Group, we benefit from the wider support of the Group's central resources such as strategic planning, sales & marketing, financial management, leadership and on-going investment.
Our core value is simple. Our thinking and decisions are guided by the philosophy of you win, we win.

Building on many decades of expertise, our vision is to be recognised as the most trusted, agile and responsive partner delivering water treatment and UV solutions for infection prevention and control.
Investing in our valued resources, our mission is to provide the best of British design and manufacturing to deliver robust quality that is valued by our customers across all sectors.
By integrating our combined skill, expertise and resources, our customers enjoy peace of mind as a result of our deep understanding of the critical nature of UV applications. This enables us to deliver solutions and services that stand the test of time.
Mervyn joined Daro in 2016 bringing 20 years' experience in business and finance. His role is to lead the strategic direction of Daro, managing continuous investment in resources to enable people, businesses and the group to achieve their long-term objectives.
Kevin joined the group in 2022 to strategically lead Daro UV Systems and Watersavers. He brings a wealth of knowledge and experience from over 30 years in the water treatment and water hygiene industry – with particular expertise in Legionella control.
Julian joined Daro in 2006 and brought with him a wealth of experience and knowledge of UV treatment sector and general industry. Julian pioneered Daro UV systems and in his role as business leader he has developed the business from inception to the well-established, thriving and respected business that it is today.
Jonathan joined the group in 2020 and brings over 25 years of UV water treatment experience. Jonathan's responsibility is to grow commercial and municipal sector ultraviolet water treatment sales.
Michael joined Daro in 2021 with over 10 years' experience in sales and account management across a number of sectors. He is responsible for looking after our current customers as well as developing new business.
Richard joined the group in 2022 and has over a decade of customer support and sales experience, as well as individual account management. He is adept at building supply chain relationships in both directions.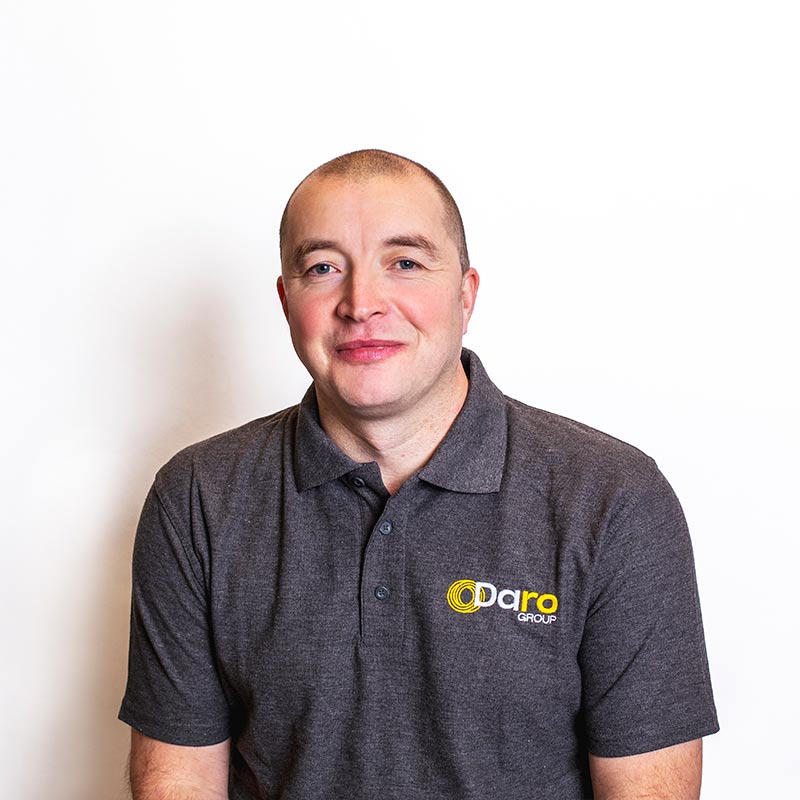 Jason joined Daro in 2007. Previously working as the procurement manager for UV Systems and Wedeco UV Systems Plc. He brings 20 years' purchasing experience to the group.
Oli joined UV Systems in 1998 and has experience of all areas of company including plastics and electrical wiring. He left for two years to expand his experience and retuned to take up the role of electrical engineer. He is instrumental in the development on all of the new UV products supporting the group head of technologies and provides technical support to customers.
Suzie has a background in office administration, organisation and coordination. She joined Daro in 2008 and in that time, she has worked with all departments the group. Since 2019 Suzie's role has evolved to providing dedicated finance and business support to UV Systems.
Group Head of Finance
and Human Resources
Sarah is Group head of finance and human resources, overseeing the accounts and a qualified member of the Chartered Institute of Management Accountant (CIMA). Since joining Daro in 2004 Sarah's role has continuously developed to now encompass overseeing group IT, health & safety and property services as well as finance and human resources.
Karen joined the group in 2019 bringing over 30 years' experience in sales and marketing. Her role is to develop marketing strategies across the group, lead the branding to create consistency whilst maintaining individuality.
Luke joined Daro in 2022 having worked in marketing and design for 12 years. He brings a wealth of industry experience from various sectors including branding, campaign and event planning. His responsibility is to progress the marketing strategy and maintain branding group-wide.
Head of Group
Continuous improvement
Lee joined Daro Group in 2020 and with 30 years in the industry brings a wealth of knowledge in the design, manufacture and application of lighting. Utilising his extensive experience in lean manufacturing, Lee is responsible for driving continuous improvement across Daro.
Finance Assistant and
Business Support
Rachel joined Daro in 2017. In addition to making our customers, suppliers and visitors feel very welcome she assists with the accounts and works closely with all of the business divisions where needed.
Compliance and
Quality Assurance
Dave Joined Daro in 2017 as operations manager in Daro Connectivity. Prior to that he worked in a number of telecom related companies for 35 years. He brings highly valuable experience in design & production engineering and leads compliance and quality assurance practices for the group.